VINCENT SEPISO
After his retirement in 2004, Mr Vincent Sepiso (from Kabulwebulwe, Mumbwa District) started farming, using conventional farming practices. Despite the hard labour he was getting very low yields and his field was becoming depreciated in terms of nutrients. Since he started farming the highest yield he had ever achieved, even in a good season, was 15 X 50Kgs of maize per hectare.
Mr Sepiso had attended CFU training for many years and thought doing CF was a sheer waste of time and never bothered to do it until the 2017/2018 season, when his local CFU Farmer Coordinator saw that Mr Sepiso has been attending trainings and never trying. The FC decided to make him a host farmer for 3 sessions of all the 3 periodical trainings, after which he decided to "try just 10 kg of maize seed on my 2 Limas of hired ADP Rip lines". The rest of the field was done using his usual conventional tillage practices. To his surprise, the CF plot has done much better than the conventional plots. Sepiso testified to say, "even during the dry spell the CF plot seemed as if someone was watering it while the conventional plot was badly hit by the dry spell which lasted for 6 weeks in this area." Mr Sepiso is now blaming himself for the late adoption, by this time he would have reached another level.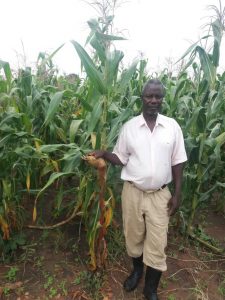 Photo above for Vincent Sepiso on his 2 Limas ADP Ripping Maize Plot
Mr Sepiso hosted a mini field day on 07/03/2018 and during the Field day, Sepiso told his fellow farmers that CF is the only way to go; its cheaper, less labour and the field continues to be productive. Sepiso said he will never in his life do conventional practices again. Sepiso said this year he will do 3-hectare maize, soya beans 2 ha and 1 sunflower on CF.