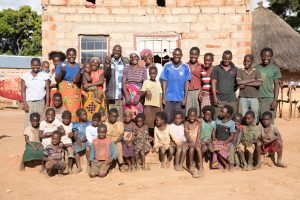 Ethorn Kapoba, of Kapoba village in Nagoma, is a man with a large family. He has three wives, and a total of 30 dependents, mostly children. For many years they were food insecure, and only managed to get by through selling cattle for money.
He has now been practicing Conservation Farming since 2015, after attending a training held by his local Famer Coordinator Dimas Mukanta, who he now holds in high regard.
Being careful, he decided to try just one lima to start off with that first season, and was amazed when he yielded 60x 50kg bags of maize, when his normal yield before was 10 to 15 bags only. He has now fully converted to doing CF, and in 2017 planted 5ha of maize, 2ha of cotton and 4ha of soya using his own oxen to rip. Although this is actually a smaller area than what he previously farmed, as he points out, his yields under conventional were poor. Now he farms a reduced area and gets much higher yields. This year, despite the very difficult season, he still expects to yield 2 tons of cotton per hectare, and 200 x 50kg bags of maize per hectare. He manages this feat by being able to put large amounts of cattle manure on the fields. However, he says that he used to do this with his conventional crops too, but made the mistake of just scattering and spreading the manure everywhere, rather than carefully placing it in the rip lines alone, as advised by the CFU.
Since starting CF three years ago, he has been able to build a new house, has been paying for 26 children in school (including one at University) and is food secure.