Mr Lancelot Malambo lives in B Concession section of Mumbwa District, in Central Province of Zambia with his two wives and thirteen (13) children.
Mr Malambo practises conservation farming. This year he mainly grew soya beans, cultivating seventy-two hectares, compared to 12 hectares of maize. During a CFU Field day at his farm, he stated that he is proud of his achievement in the farming season 2017/2018. He ripped all his fields in October 2017, and then waited for the rains to come, and when the rains came he started planting.
Despite having a drought in the midst of December, his crop still looks fine, and promises a good harvest. He said he enjoys Conservation Farming because it's cheaper to prepare fields than ploughing. He encouraged other farmers to practise CF, and that they should rip deep at twenty-five or thirty centimetres if possible, depending on the soil texture. He said doing this helps the crops not to suffocate during the dry spell.
He said if other farmers see what he has done, then it's even possible for them to work as he has done. He paid tribute to the Conservation Farming Unit (CFU) for the unwavering support rendered to him.
Mr Malambo in his soya beans field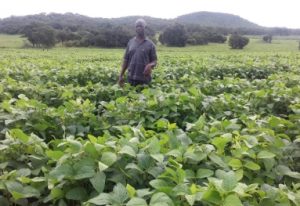 Mr Malambo's two wives and family