Timale Banda, is a farmer who was widowed when her husband died in 2007. He left her with 5 school going children. In the picture below is Mrs Timale Banda and 2 of her grandchildren. She managed to sponsor the other five of her own children to go to school and university and today, they are grown up and have their own families to look after. She is a hard working woman that manages to put food on the table for herself and her dependants.
The picture below, in the foreground, is an example of maize grown using FISIP inputs which arrived too late for the season. Her maize (pictured in the background), on the other hand is in great shape.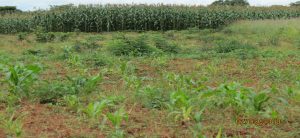 She became an adopter in 2010 after going through the CFU trainings with her FC. When she started she did not believe in the system not until she tried it on a small potion and her doubting mind was relieved. Later in 2011, the following year, she applied the CF method on all of her land as she prepared for planting. She uses the hand hoe basin method.
She hires labour to prepare her fields and uses maize to pay the workers. Most of this labour consists of people surrounding her farm who do not believe in Conservation Farming. Before she started practicing Conservation Farming, her yields were as low as 30 bags per hectare (1.5 tonnes/ha) but today her yields have gone as high as 95 bags per hectare (4.75 tonnes/ha). From all this she has managed to build a store room where she is keeping her produce and also the inputs that she buys for the coming season. She always keeps part of her produce in order to pay the labourers that prepare her fields the next coming season. She is planning to plant a bigger field next season so that when she realises the money from the harvest, she can use part of it to pay for her grandchildren's school fees.
She starts preparing her fields in as early as August. By this time most of the people are looking for food, therefore she uses this chance to get more labourers, paying those who want to work in tins of maize to dig lines of basins. Timale doesn't depend on FISIP, she buys the fertilizer in advance based on her upcoming requirements.
Timale says she will never go back to conventional practices because she knows that at the end of the day her yields will be so much higher than before she adopted CF practice. She knows that conventional farming has so many disadvantages and tries to convince most of her neighbours to change from conventional to conservation farming. Last but not least, she says, 'to acquire knowledge is better than just sitting like an empty tin.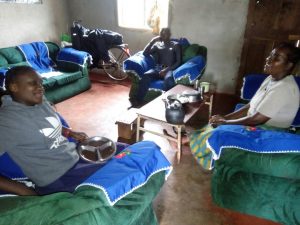 The picture is the inside of her house. These chairs are part of her achievements, bought with cash from CF. She also bought a Top Star [a decoder to use to capture a satellite digital TV signal.] She has managed to purchase a solar system to give her electricity in the house, powering TV and the entire house.